Bugs (July 2019)
A while back I purchased a Tamron SP AF Macro 90mm f2.8 lens for my Nikon D300. Despite having another decent macro lens for the Nikon (a Sigma EX 105mm f2.8 D Macro) I felt that this Tamron lens really suited to the D300 more than the Sigma. I'm not sure why. Perhaps it's just me. I have the same Sigma lens on my Sony A57 and that feels great, so I guess it's just a personal preference.
Anyway, I'm back living in the UK and now I have all my camera equipment with me again so I've been out and about more taking photos. I picked up the Nikon D300 after using the Sony and it's been a joy to use with the Tamron. It's a heavy camera and the resolution is dated, but the IQ is amazing! I'm still rubbish at taking landscape photos so I've been keeping the macro lenses on and concentrating on bug pics.
Most of the time, I take my camera when walking our dog so all my shots are handheld and unplanned. I'd love to set a tripod and spend time taking some more carefully constructed photos, but time is short so I'm shooting on-the-fly (excuse the pun)!
On with the photos…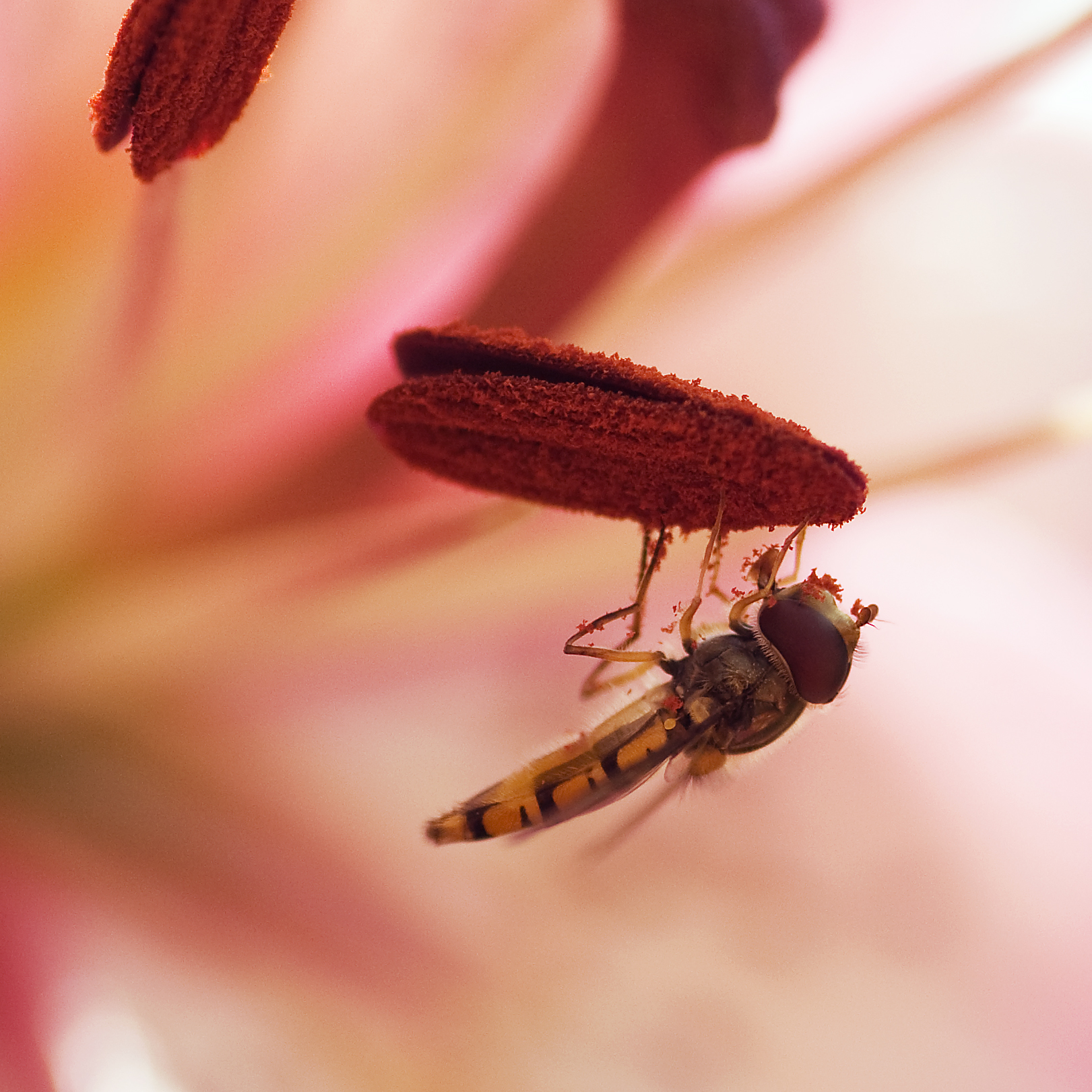 The first photo (above) was taken in my garden. It depicts a hoverfly covered in pollen on the stamen of a lily flower. It's quite a tight crop from a larger image so you can see clearly the pollen all over the little guy.
Below we have another hoverfly. I took this photograph whilst walking with the dog on Bromyard Downs, a lovely place full of nature: wild flowers, birds, bees, flies, butterflies, moths and other bugs.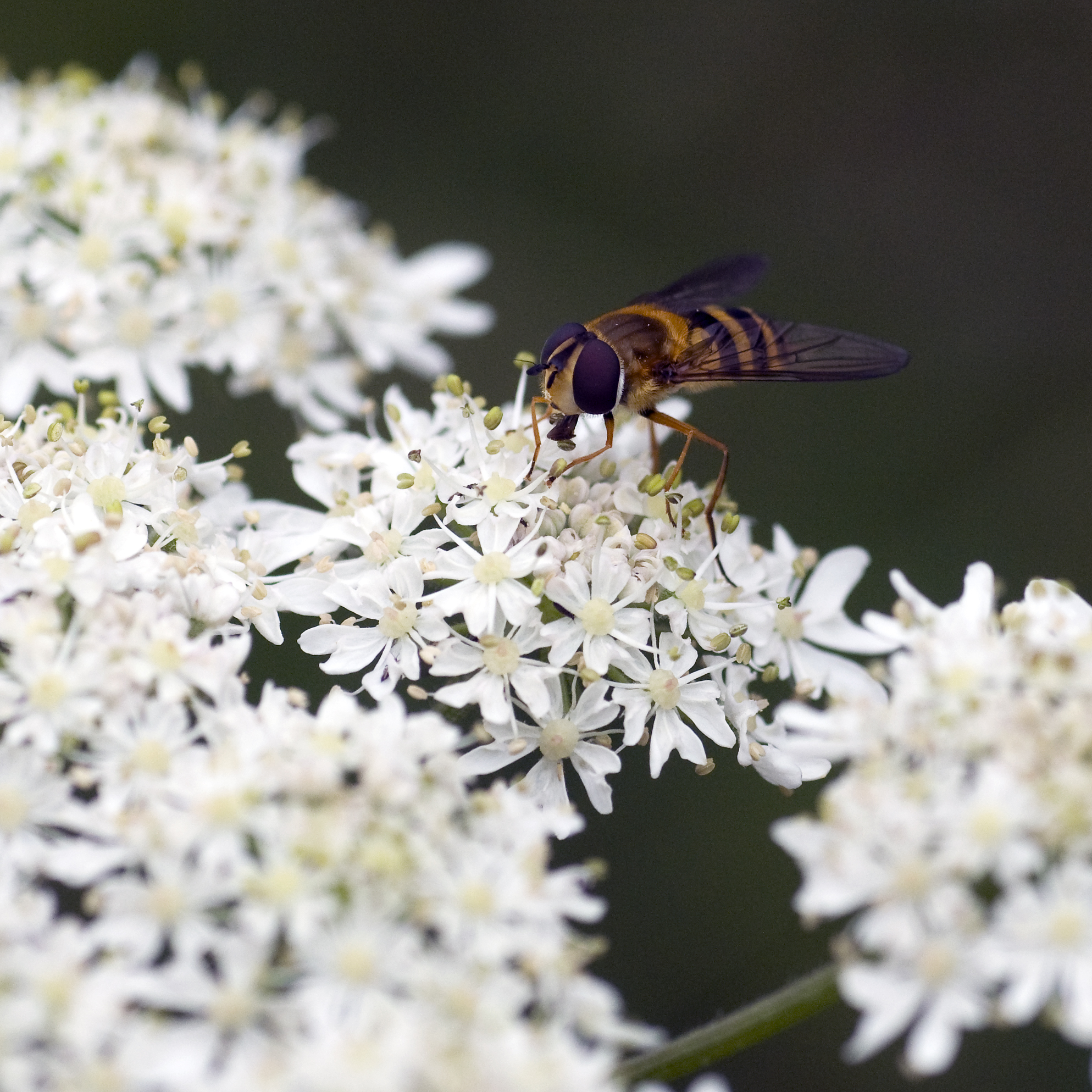 Whilst on the same walk we saw many black and red spotted flying bugs which I photographed and looked up online when I returned home because I didn't know what they were. The photo below shows one of them. It is a Six-spot Burnet moth (Zygaena filipendulae) amongst tall grasses. They are quite common and there is a similar species called the Five-spot Burnet moth. You can find out more here: Six-spot Burnet moth.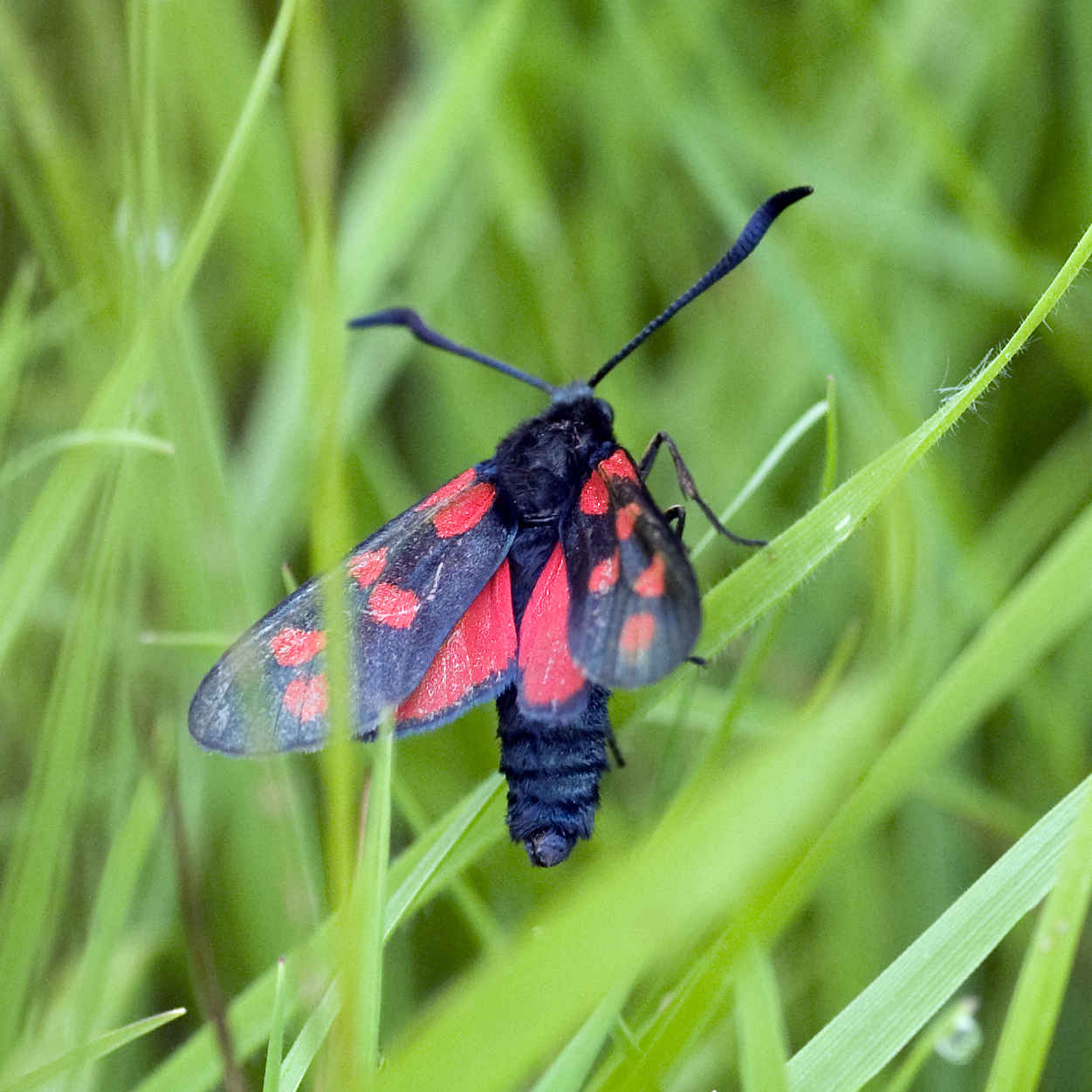 There were also many butterflies on Bromyard Downs that day.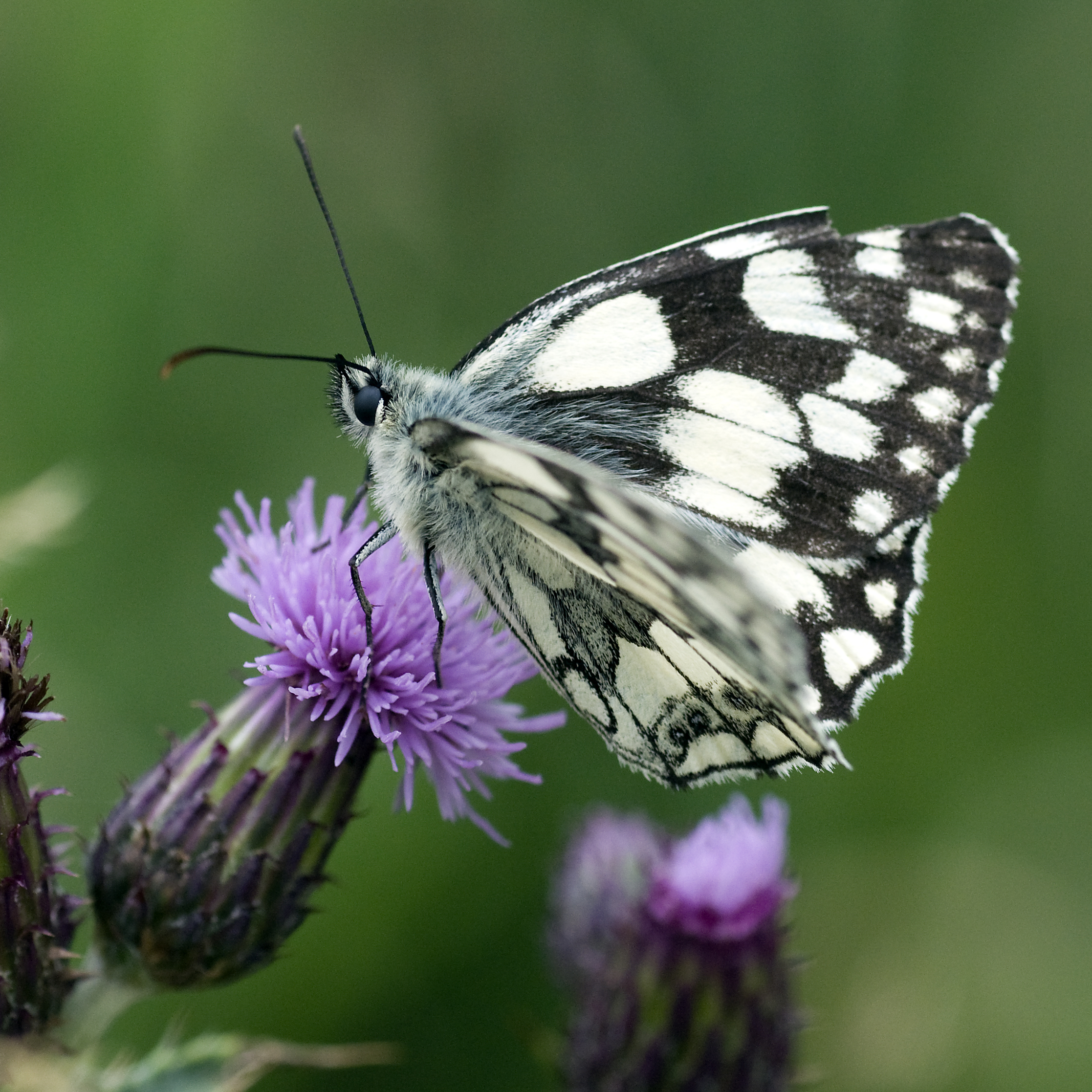 Above is a Marbled White Butterfly (Melanargia galathea) on a mauve flower whilst below is a Ringlet Butterfly (Aphantopus hyperantus) on a leaf. Both of these butterflies are very common in the UK. Butterflies and moths are very important in nature, both as pollinators and as an indicator of how healthy nature is. You can learn more on the Butterfly Conservation website and perhaps think about getting involved with helping this amazing species.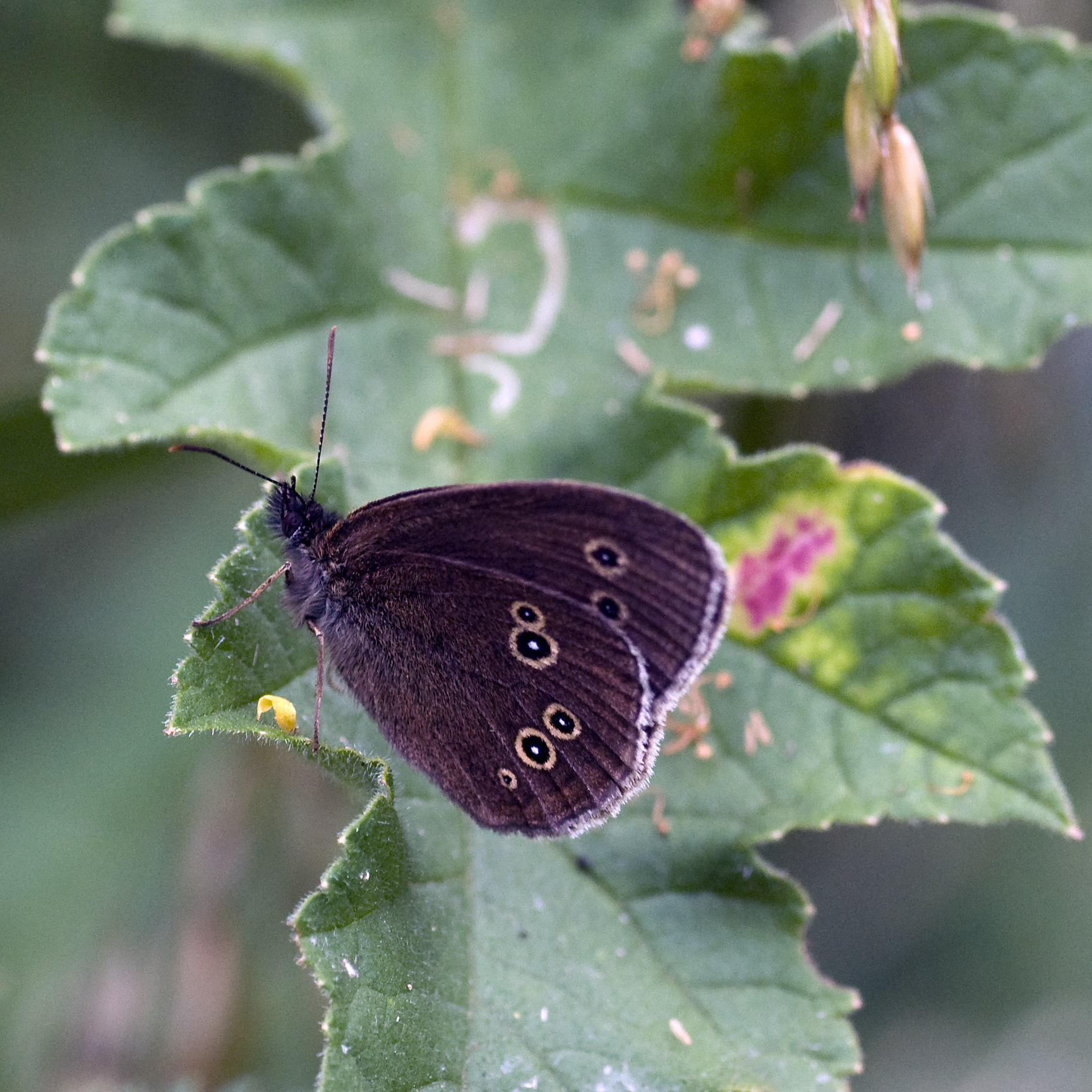 Of course, I took many more photos whilst on this walk, but not all were good enough to put online. I'll try and add some more photos over the next few days and weeks as I begin to get back into photography (whilst trying to fit it around my job and studying). Thanks for reading.
A note about Pixabay
Usually I put my photos up on Pixabay but they seem to have changed the minimum upload dimensions lately and some of the photographs in this blog post don't meet their specifications, which I feel is a shame. The D300 has a resolution of 12.3-megapixels giving a maximum photo size of 4,288 × 2,848 pixels however Pixabay now insist that all photos must have a minimum pixel dimension of 3000 pixels along one side. When you're taking photos of bugs it's quite common to have to crop an image, especially when it's difficult to get close to an insect without disturbing it. This means that four of the photographs above can't go on Pixabay as they aren't big enough.
I can understand that Pixabay want to only have high quality images on their website, but it's a shame that I can't upload these photos for others to use because of necessary cropping. Oh well!